One of the great joys of owning a dog is being able to take walks together every day. Even from a very young age, puppies enjoy exercise and play. With his boundless energy and curiosity, it's easy to overestimate how much use a growing puppy needs. But it's essential to give your dog the right kind of exercise for her age and breed. Overdoing a puppy exercising routine can be as bad as not doing enough.
The right amount and type of exercise is key to a puppy's physical and mental wellbeing. If you have a new puppy or are thinking of getting one, you probably have questions about walking your new puppy. These beginner guidelines for puppy exercise cover what you need to know about how to walk puppies so that you can build good habits now and enjoy walks for many years to come.
When Can You Start Walking a Puppy?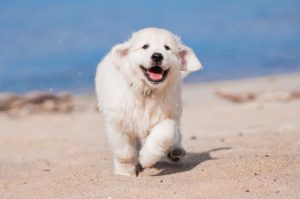 While all puppies need exercise, it's essential to walk puppies outside only after they're fully vaccinated, around the age of 18 weeks or 4.5 months old. Before then, young puppies will have a developing immune system, making them more susceptible to viruses like parvo and distemper.
Most puppies will receive the last vaccination booster at around 4 months of age, and vets recommend you wait another two weeks after the promoter before taking your puppy out on her first walk outside.
Younger dogs may not be ready for a walk outdoors, but exercise and socialization are still relevant as soon as you bring your puppy home. Make sure your young puppy gets plenty of playtimes each day, with games like fetch, keep away, or tug of war. You can also help your dog practice walking and learning commands inside. For socialization, consider activities like a puppy social or training class where all the puppies will be at the same vaccination level.
How Do You Walk a Puppy for the First Time?
Taking a walk will be a new experience for your young puppy, so it's best to teach it to her step by step. Try to make each short lesson positive and mentally stimulating, and reward your puppy with praise or a treat for encouragement. Here are 5 lessons to get started:
Begin With Collar and Leash Training – Start by getting your puppy accustomed to a collar (or harness) and a leash. Puppies can take to a collar and leash as early as a few weeks old. Do this training during feeding, play, or another activity with positive associations. 

If your puppy struggles against their collar or leash, incorporate more positive reinforcement into the practice, such as toys or treats.

Make Your Puppy to Come to You – While she's wearing her leash and collar, back up a few steps and let her come to you. Try backing up a few more steps while he's on his way. Call your puppy with a cue and reward her when she gets to you.

Take a walk-in.

 You can walk a puppy for the first time even before he's ready for outside exercise. Just take him for a walk inside. He'll get used to leading him around, and you can also practice leash and collar training during short trips outside for bathroom time.

Teach Your Puppy to Let You Lead – 

To teach your puppy health habits early, help him learn to follow you on the leash, instead of trying to lead you.

When leash training, simply take a few steps in one direction, then turn and walk in the opposite direction once your puppy starts to pull. After some stopping and starting, he'll pick up the idea and let you lead the way in any direction.
Practice Basic Commands – Taking a walking pair well with some basic obedience training. At about 12 weeks of age, you can begin practicing basic commands with your puppy like "sit," "stay," "heel," "come," and "down." Continue practicing these commands on walks when you take your puppy outside.
It may sound simple, but it's a lot to learn for a young puppy. Breaking down the walking routine into these steps will help.
How Far Can a Puppy Walk?
Once your puppy is old enough, has had her vaccinations, and knows the basic commands, it's time to head outside. You'll want to make sure the walks you take together are long enough to get proper exercise, without being too hard for a puppy that's still growing.
How far a puppy can walk depends a lot on their age. A 10-week-old puppy can't walk as far as a 12-week-old puppy, who can't walk as far as a 4-month-old puppy. A good rule of thumb is to remember that a typical puppy can walk about 5 minutes for every month of age, twice a day.
Here are some examples of typical exercise routines:
10 Weeks Old
If your puppy is 10 weeks old, she won't be fully vaccinated, so make sure to exercise indoors. According to the rule of thumb, about 10 minutes of exercise twice a day should be enough.
12 Weeks Old
At 12 weeks old, your puppy can move up to 15 minutes of exercise twice daily. If your puppy hasn't had all vaccinations, kee inside for playtime.
4 Months Old
After 4 months and when your puppy is vaccinated, she's ready to walk outside. At this point, you can walk her for around 20 minutes two times a day.
6 Months Old
Most puppies that are 6 months old can benefit from longer walks of about 30 minutes two times per day. This is long enough to take a stroll around the neighborhood or head to the park.
8 Months and Up
As your puppy matures, he'll need more physical activity to stay healthy. Adult dogs generally need between 30 minutes and 2 hours of exercise a day. When your puppy should step up to adult exercise depends on his size:
For smaller breeds below 25 pounds, adult exercise can start between 8 and 9 months.
For breeds over 25 pounds, adult exercise can start after 14 months.
For giant breeds over 100 pounds, they'll be fully mature and ready for more grown-up exercise around 1.5 years.
Can You Exercise a Puppy Too Much?
Sometimes a puppy will let you know when he's tired. He'll simply sit down, and you may have to carry him home. Others will try to keep pace with older dogs or their human, even when they should take a rest. But whether your puppy seems tired or not, remember that it is always possible to overdo it.
Studies show that over-exercise could harm long-term health, leading to future joint and bone problems. Besides age, how much exercise is too much often depends on the breed? Over-exercise is especially risky for large- and giant-breed puppies, whose bones take longer to mature. All dogs need care, and a Dog Nail Grinder is a perfect way to keep their nails correctly trimmed.
How Do You Find a Good Walking Routine for Your Puppy?
Finding the right amount of exercise can be tricky. There's no single hard and fast rule of how much use is too much since it depends on your puppy's personality, age, breed, and health. One puppy Golden Retriever may enjoy more exercise than another of the same kind. Finding the right balance for your particular puppy is part of a process, and after a while, you'll know your dog better than anyone else.
The good thing is that puppies love to play and explore. This gives you a lot of options for games and training as you bond with your new dog. Pay attention in the beginning to the right amount of activity, increasing how far you walk as she ages. You can also add new events to help socialize your puppy. Make sure to get at least two full exercise sessions a day, with another playtime as needed. Learn about the activity level for your puppy's breed so that you can set an appropriate pace. Take time to develop healthy walking and exercising habits with your new puppy, and you can look forward to many long walks together in the years that come.
4 people found this helpful.
Disclosure:
Our content is free because we may earn a commission when you click or make a purchase using our site.